Custom Branding
Branded Attractions Perfect for Trade Shows, Exhibitions, & Promotions
Are you searching for the ideal way to gain more exposure for your company or brand? Our custom-branded interactive games and entertainment provide maximum engagement and will grab the attention of visitors at any trade show, exhibition, or other event. At ThunderDome Racing, we are able to brand most all of our racing games and attractions:
6-Car Remote Control Race Track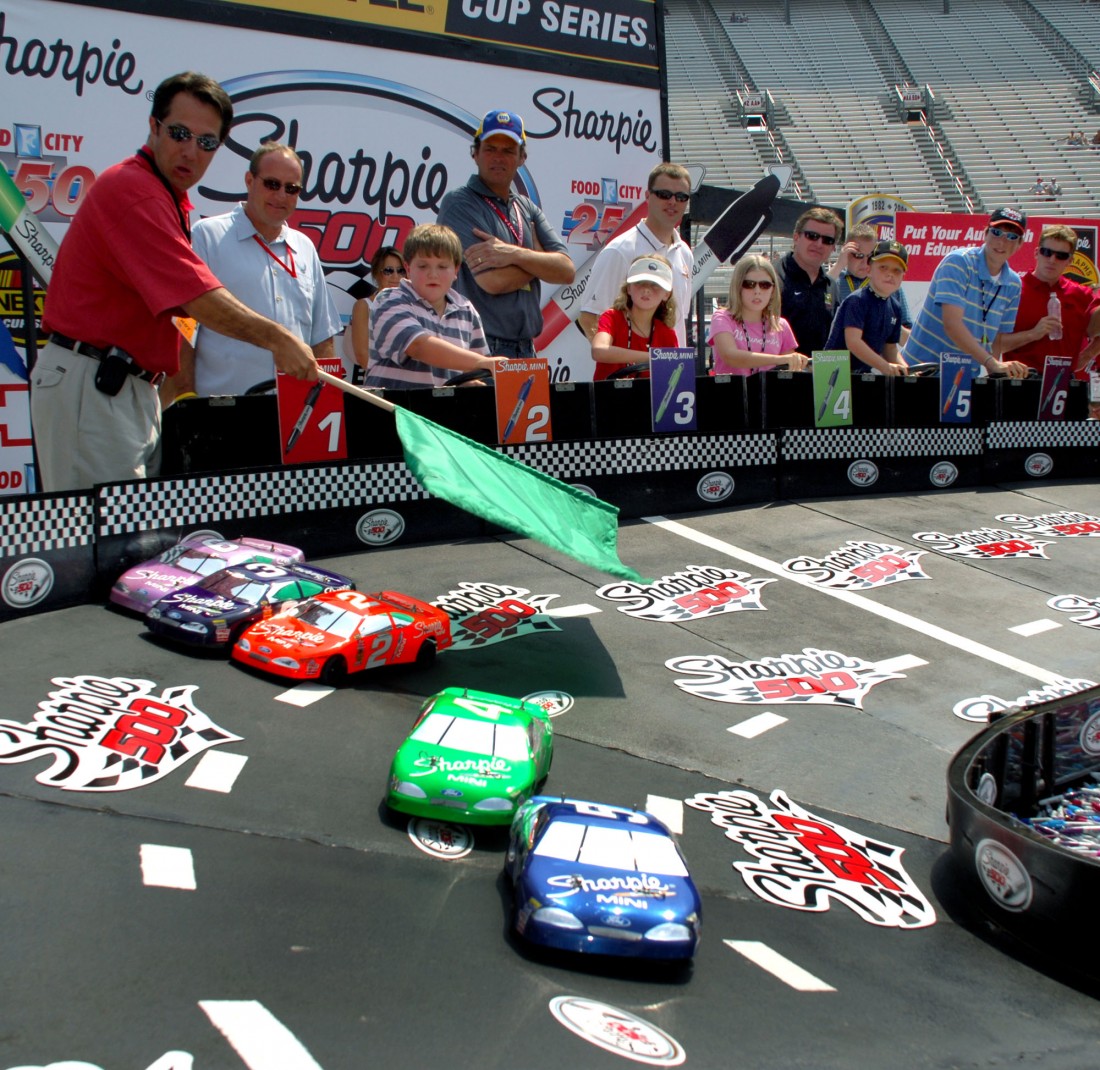 Our 6-car Remote Control Race Track is our best racing attraction because of its size and presence. The cars are 1/10th scale, about one foot long by 10 inches wide. Six players can race against each other at one time. We can make Custom Car Bodies for your client so the car will be seen with the client's logo on the car going around the track for the entire time of the event! This is a great way to interact with the guests/clients.
This attraction always creates some buzz and everyone wants to play it. We can brand the outer perimeter of the track with a 'track skirt' with your companies name & logo. Your company's race car will be circling the track all event long for maximum exposure! The 6 Car Remote Control Race Track can be configured in different sizes from 16' x 20' to 24' x 24'. Please contact us for a track configuration sheet with all of the configurations on it. This track operates off 120 volt 15 amps power supply.
Pit Stop Challenge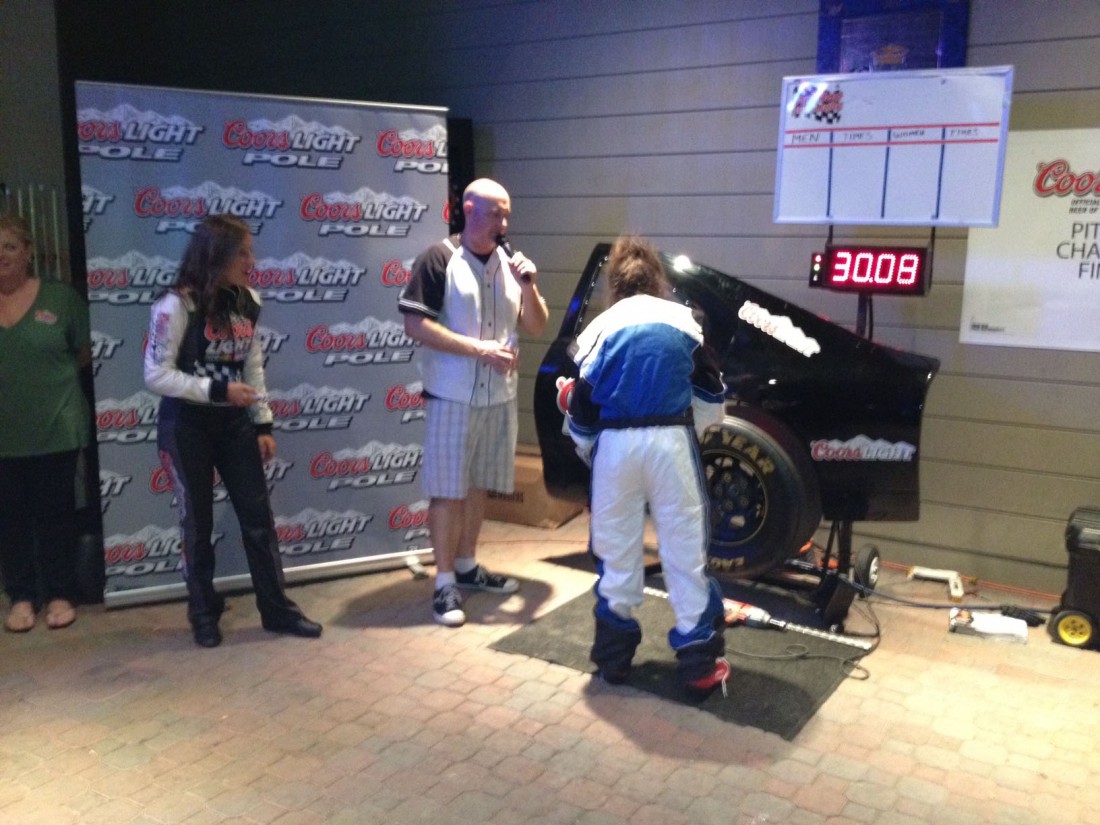 The Pit Stop Challenge can be sponsored, too. This is a great attraction if you are limited in space. It has a footprint of 4' wide x 3' deep however a 7' x 7' space will work best for the player(s) to stand around. Just send us your artwork or logos and we'll take it from there! This is an interesting and unique attraction as not many people ever get to change a tire with an impact gun, The attached photo shows a typical branding event with an association. Maybe even make a little money if you can get enough sponsors to pay for space!! Contact us today and we can help you with deciding how best to help your associates have some fun and not pay a lot for it!
4-Car Mini Track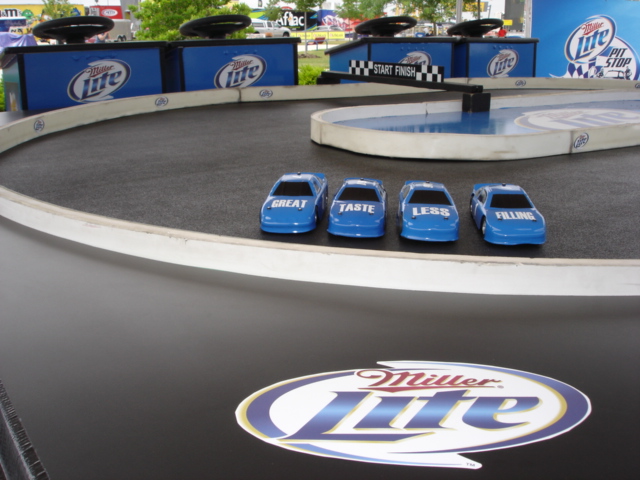 The 4-Car Mini Track is another great branding opportunity. We can make Custom Car Bodies with your logos on them - just like the real ones! We also brand the track with skirting and decals on the track surface, as well as wrapping the driver consoles. We can wrap the driver consoles with any color you'd like and put your company logos on them and the whole track will look like it came from your company, not sub-contracted! The footprint is 13' wide x 10' deep and uses 120 volt 10 amps for power. Contact us today to see if this is the right marketing tool for your next event!
Stock Car Challenge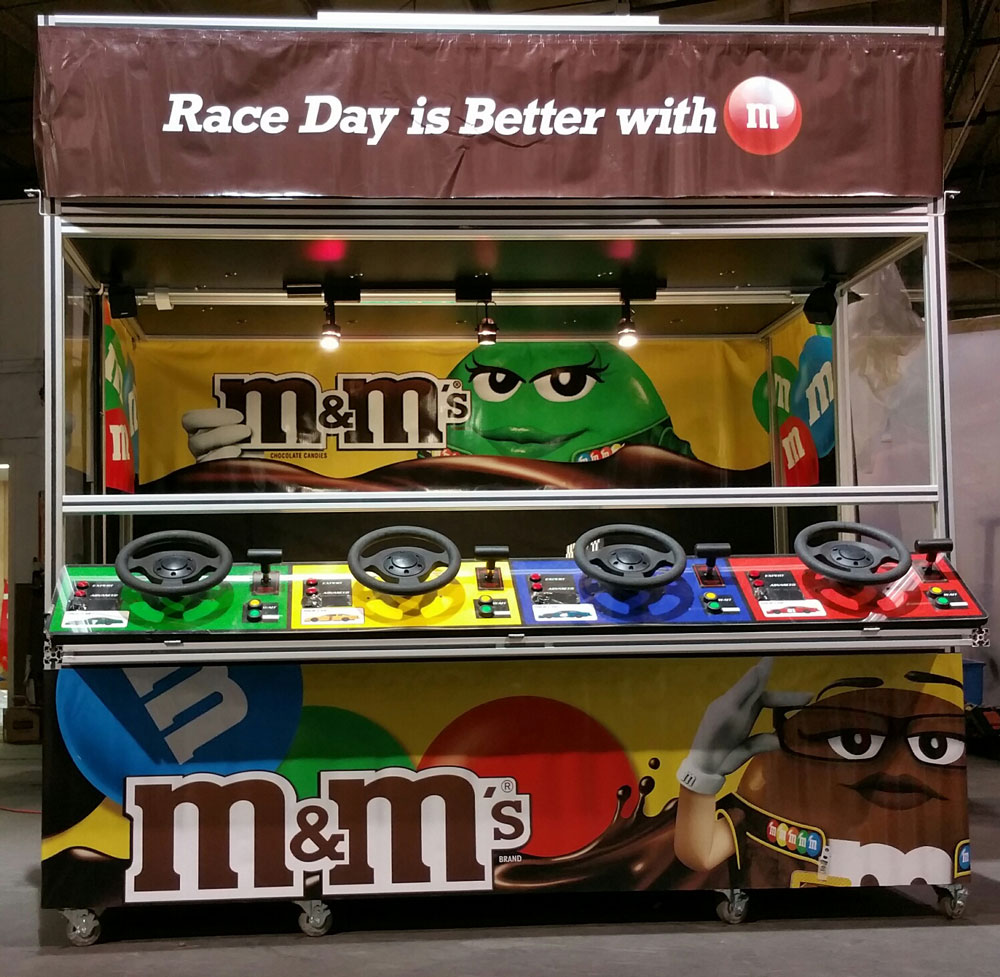 The Stock Car Challenge is another great option if you have a smaller space or are footprint challenged. The Stock Car Challenge is only 6' deep x 8' wide, so it will fit in any size trade show booth area. It functions just like the Mini Track but is in a different package. We can make custom car bodies for this game and make banners to go at the bottom of it, inside it at eye level and make a banner to go at the top of it too. All 3 banners allow for maximum exposure and really help tell your story. You don't have to order 3 banners as one or two may be all you need. This attraction works off of 120 volt 15 amps.
4 Linked EA Nascar Racing Simulators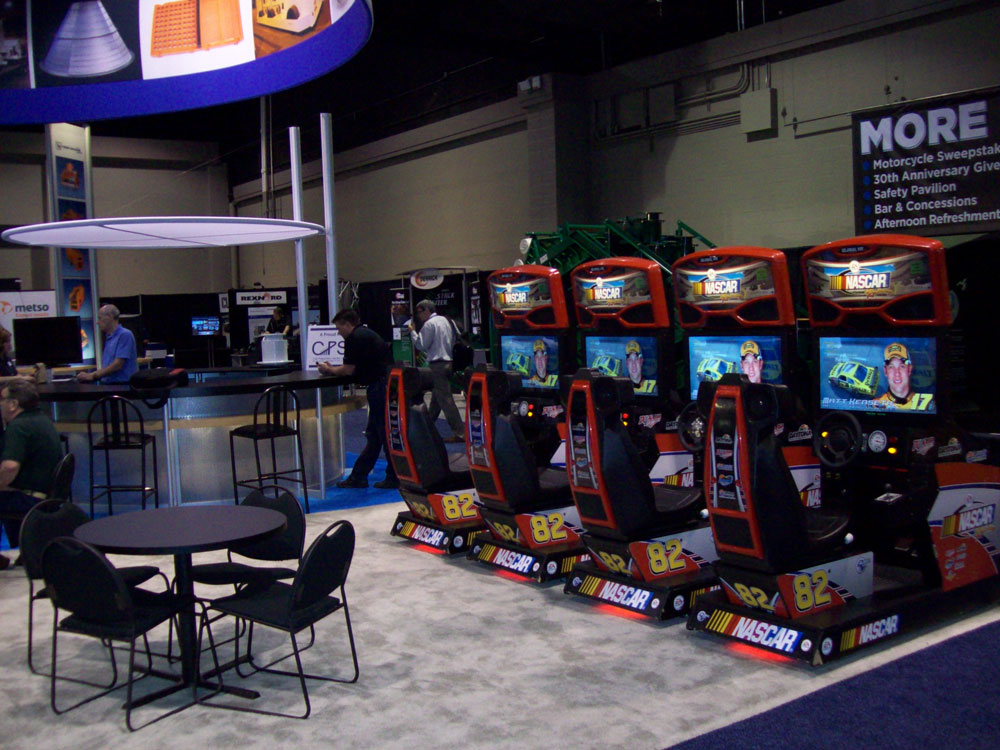 These racing simulators always gather a crowd and make for an awesome, memorable time in your booth - and they usually have people coming back before the events over to play again! We might be able to place a few of your company logos on these games, but there isn't a lot of space for that. However, they are still a lot of fun because they link together and you're racing your colleagues and not just the computer. You don't have to have all 4 of them, but you would want to have at least 2 units as a minimum.
We Bring the Excitement to YOU!
Let ThunderDome bring the excitement and host your next corporate event, family gathering, trade show, exhibition… you name it! We offer full-service set-up and takedown with endless entertainment! We have worked with numerous marketing and company directors, event directors, meeting planners, private companies, and other individuals from around the country since 1995. Some cities we've delivered our unique event entertainment to include Charlotte, Raleigh, Atlanta, Columbia, Richmond, and many more!
We offer a variety of event packages customizable to fit your specific needs and budget! Please
contact us online
today or call us directly at
704.474.0136